A further conversation with Elders
At a recent forum in Melbourne seven Elders from the NT released a statement about the NT Intervention - click here for more.
WCC voices concern about the situation for Aboriginal and Torres Strait Islander peoples
Following on from the recent visit to Australia by a World Council of Churches 'Living Letters' team, the WCC have adopted a statement about the situation for Aboriginal and Torres Strait Islander people in Australia.
Click here for WCC statement
The Living Letters team have also released their report about their visit to the Northern Territory.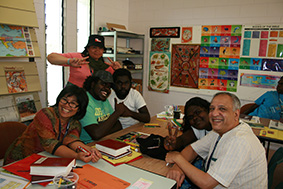 During their visit the Living Letters team visited several communities and spoke to people who came from around the Northern Territory. Many of the team members expressed shock at what they heard as they did not realise that these things still happened in Australia. The team said that colonisation is not something that happened in the past, it is still ongoing and that Aboriginal people were subject to systemic racism and injustice. The team also noted the strength of resistance shown by Aboriginal people and urged them to continue to draw on the strength of their culture to resist the debilitating effects of the ways of the colonisers.
The team said that they stand in solidarity with the Indigenous Peoples of Australia and commit to speaking out and telling the world about what they have seen here. They promised they would continue to work for the rights of Indigenous peoples here and in other places and said "Your fight is our fight".
To download the statement click here
WCC_Living_Letters_statement_NATSIEC.pdf
To download the WCC Living Letters To Australia report Beyond Intervention Many Voices, One Purpose: Standing in Solidarity click here
WCC_LivingLettersReport_Beyond_Intervention_2010
To find out more about the Living Letters click here.
Photo: Members of the team talk to students in the Literacy course at Nungalinya College, Darwin.
---