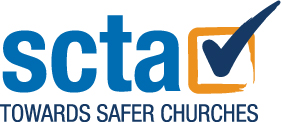 Click on logo to return to safechurches.org.au homepage
About the Safe Church Training Agreement (SCTA)
The SCTA aims to make Australian Churches safer places by facilitating collaborative, quality Safe Church Awareness Training within the Australian Christian church context.
The SCTA is self-funded initiative of the NCCA. It invited Christian organisations to partner together by recognising endorsed Safe Church Workshops which are conducted by our SCTA Training Partners.
Safe Church Workshops cover the areas of duty of care, vulnerable people protection (including children), good leadership practice, safe leaders, and safe programs.
The SCTA is not a product, but rather a commitment of Australian churches and Christian organisations to work together towards safer churches. All SCTA endorsed training is conducted by our SCTA Training Partners.
Each year SCTA members contribute a membership fee which enables human resources:
for the National coordination of the SCTA Endorsed Workshops,
management of training records via the National SCTA Training Database, and
a National Hub for Safe Church information and queries
The Standards exist to:
Set a high standard for Safe Church programs throughout the Australian church
Provide an instrument to be used by christian organisations to audit their own training programs
Provide the framework for endorsement of SCTA Training Partners
The national standards can be found here.
SCTA Involvement Levels - Members and Training Partners
There are two levels of participation within this initiative.
SCTA Members: These are Christian organisations who agree to recognise endorsed Safe Church Worskshop.
SCTA Training Partners: Once a member, organisiations can seek to offer other cross demominational training by becoming an SCTA Training Partners.
For more information or to make enquires about SCTA membership please contact This email address is being protected from spambots. You need JavaScript enabled to view it. or download a membership application form