Safe Church Training workshops
Training available consists of a Safe Church Awareness Workshop (approx 6 hours) and a Safe Church Refresher Workshop (approx 3 hours). For workshop times click here. If there is a barrier to you attending these trainings, such as living in a remote area, please contact us to discuss.
Safe Church Training Agreement Information
(Scroll to bottom for information on Working with Children and Vulnerable people checks)
Click the images below for a downloadable copy of our SCTA Information booklets
Social Media and Electronic Communication Guide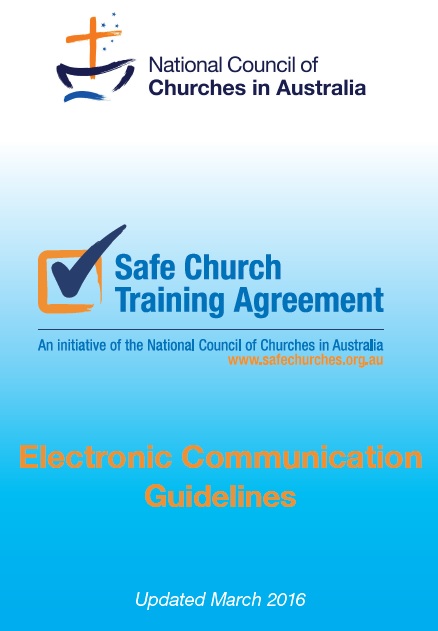 Samples, Guidelines and Factsheets
Click the titles below for sample copies - This email address is being protected from spambots. You need JavaScript enabled to view it. if you would like an editable copy for your church's use
Guidelines
pdf Creating a Safe Church Culture (125 KB)
pdf Creating a Safe Church Culture
pdf HR Policies and Procedures (609 KB)
pdf Risk Management Guide (313 KB)
pdf Safe Church Startup Guide (164 KB)
Code of Conduct
pdf Sample Children's Code of Conduct

Leadership Forms
pdf Approval for Ministry Activities
pdf Sample Leadership Application Form

Reporting Forms
pdf Incident Report Form Sample
pdf Reporting Concerns Form Sample

Policy Samples
pdf Safe Church Child Protection / Child Safe Policy SAMPLE
pdf Use of Images (Photo release) Policy SAMPLE

Consent Forms
Sign in / Sign out Form Sample

Links and Further Information

Government Contacts
pdf Click here for useful numbers for Statutory Authorities in your State or Territory

Working With Children Checks
The state-based WWC sites can be found through the following links:
Working with vulnerable people checks:
ACT - Has a separate check. Details here.
Tasmania- In the coming year, there will be an additional step beyond the WWCC in order to obtain a separate vulnerable person's check. Details will be provided once available.
Updated Information for South Australians - July 2017:

South Australia offers five types of screening. These five checks are completed by the Department for Communities and Social Inclusion (DSCI) Screening Unit. As of July 2017, all checks are now monitored, which means they are 'live' (like a WWCC in other states), as opposed to a 'point in time' (like a police clearance).
Screening for all people working (or volunteering) with children (including those under 18 themselves) is mandated by new legislation.
Screening for all people working (or volunteering) with vulnerable persons is not mandated, but is available and can be requested by an employer.

For details about all five checks, including which roles are covered and fees, click here.