WEEK OF PRAYER FOR CHRISTIAN UNITY 2011
(5 June – 12 June 2011) "One in the Apostles' Teaching, Fellowship, Breaking of Bread and Prayer"
"They devoted themselves to the apostles' teachings and fellowship, to the breaking of bread and the prayers" (Acts 2:42)
This year's theme offered for our meditation by the Churches in Jerusalem invites Christians everywhere to pause and reflect on their relation to the mother Church of Jerusalem, so as to look afresh at our own situations. It is from this Jerusalem community that all other communities are born. The earthly community of Jerusalem is a pre-figuration of the heavenly Jerusalem where all peoples will be gathered around the throne of the Lamb in eternal praise and adoration of God.
The Christians of Jerusalem invite our ecumenical gatherings in 2011 to meditate on the importance of our devotion to the teachings of the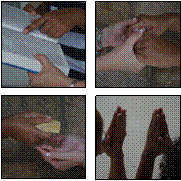 apostles and fellowship, to the breaking of bread, and the prayers; elements that unite us, though we are many, in the one Body of Christ. The churches in Jerusalem ask us to remember them in their precarious situation and to pray for justice that will bring peace in the Holy Land. The ecumenical liturgy presented here is intended to lift up the fundamental dimension of all Christian witness, namely love in the service to the Gospel of reconciliation with God and with all of humanity and creation.
The 2011 resources, have been adapted by a small Week of Prayer team from the materials produced jointly by the WCC & the Pontifical Council for Promoting Christian Unity, drawing on Jerusalem churches' experience, here for Australia, they seek to deepen our unity in Christ. It is hoped that these resources may be used in creative ways assisting peoples reflections on the unity that is visible in Christ. Please mark the Week of Prayer in ways that are most appropriate for the place where you live.
NCCA RESOURCES
Ecumenical Service of Worship outline with notes and suggestions for Worship Leaders ( notes PDF )
An Order of Worship for congregational use in    A5 PDF or in   A4 PDF or in  Word
Sermon Notes on Acts 2
Daily Prayers and Biblical Reflections (  8 days PDF )
Prayers for each day:
Day One (5 June)         Day Two (6 June)
Day Three (7 June)       Day Four (8 June)
Day Five (9 June)         Day Six (10 June)
Day Seven ( 11 June)   Day Eight (12 June)
A  Colour A3 Poster is available to order $6.00 each ( sample poster )
Prayer Cards are available to order $10 for 25 ( View sample )
For Orders Phone Laura on (02) 9299 2215 email; This e-mail address is being protected from spambots. You need JavaScript enabled to view it
OTHER RESOURCES AND LINKS
Global resources introducing the theme for 2011
a reflection placing this year's Week of Prayer themes and the 8 Days' Prayer materials in their biblical and theological context
Ecumenical Life in Jerusalem (prepared by Churches Together in Britain and Ireland)
World Sunday for Peace (22 May 2011) is part of the WCC's International Ecumenical Peace Convocation (IEPC) which will take place 17 -25 May in Kingston, Jamaica and marks the culmination of the "Decade to Overcome Violence: Churches Seeking Reconciliation and Peace". A variety of resourcesare available at www.overcomingviolence.org/sunday
If you download resources from the NCCA website, a donation to the NCCA for the Week of Prayer for Christian Unity would be appreciated and will assist in the preparation of  resources in the future.
LOCAL EVENTS
Information concerning Week of Prayer for Christian Unity events may be obtained from your State Ecumenical Council .